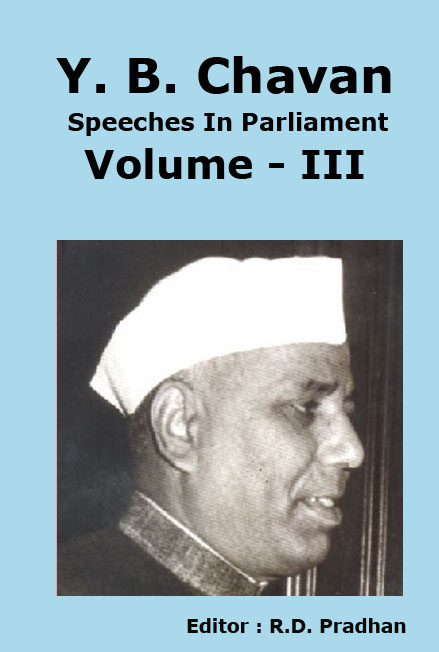 Speeches in Parliament

Vol. (III)

Editor : R. D. Pradhan
--------------------------------
FOREWORD
It is with a sense of fulfillment that I write this Foreword to the 3rd and 4th volumes of late Shri Y.B. Chavan's speeches in Parliament. These volumes contain Shri Chavan's speeches as the Finance Minister of India, as the Minister of External Affairs and also as the Leader of Opposition in Lok Sabha. The publication of these volumes marks the conclusion of the project undertaken by the Yashwantrao Chavan Pratishthan to publish selected speeches of late Shri Y. B. Chavan in the Parliament. I must thank Shri R.D.Pradhan who has edited all the four volumes, for his hard work, tenacity and perspicacity in going through all the speeches, selecting the important ones and editing them for the benefit of readers and scholars. I am sure that these volumes will prove to be of invaluable assistance to any serious student of free India's political history.
Shri. Y. B. Chavan was a bright star in the firmament of Indian politics. His life is the story of the rise of a poor boy in Deorashtra to Chief Minister of Maharashtra and then to the high office of Deputy Prime Minister of India. It is an inspiring saga which is all the more remarkable because he himself was the architect of his overarching achievement. His political philosophy had evolved in the crucible of freedom movement. Throughout his life he cherished the ideals of democracy, secularism and socialism. A firm believer in the empowerment of the common people, he ushered in democratic decentralisation in Maharashtra. His style of governance was characterised by a certain grace, sincere effort to understand others' view points and gentle persuasion. He liked to govern by consensus rather than diktat. Long years in office and positions of power did not blunt his literary sensibilities nor corrode the capacity for spontaneous response to the conditions and concerns of the poor. He could be assertive in the matter of political convictions but he always tried to accommodate differing points of view and to carry all sections of people with him. He had a sense of being a part of independent India's unfolding history and by his steady, dedicated work, inspired by a vision of strong India, he has earned for himself an important place in the history of Maharashtra and India. I am sure that these various facets of his personality will shine through the speeches in these volumes, though they were often made in response to concerns and crisis of those particular times.
With these words. I offer these volumes to the people, the Parliamentarians, scholars and future historians.
Sharad Pawar
President
Y. B. Chavan Pratishthan