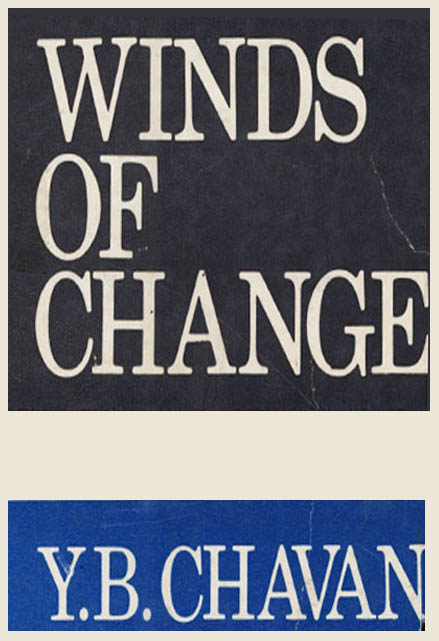 WINDS OF CHANGE

Shri Yeshwantrao Balwantrao Chavan
-------------------------------------------------
| | |
| --- | --- |
| | Ebook साठी येथे क्लिक करा |
Introduction
THIS is A book of great importance and will be read with interest by all those who have a stake in the public life of India and also by those who would like to know the direction in which the winds of change blow in India.
Y. B. Chavan, the Finance Minister of India, has played an important role on the Indian political scene for the last two deca­des. He was Defence Minister of India from 1962 to 1966, Home Minister from 1966 to 1970, and the Finance Minister since 1970. He has been intimately involved in the formulation of socio­economic policies of the government and in their implementation.
Chavan has been an enigma to many observers of the Indian political scene. This book, which is a collection of his selected writings and speeches, gives an insight into his mind and enables the reader to understand his role as a leader, as an administrator, and as a man. In a few swift and broad strokes, he places before the reader a macro-analysis of the strategy to be adopted during the 1970s for achieving the basic goal of economic growth with social justice. He examines not only the economic issues which require solutions, but also the social and political ills that have to be remedied.
He touches upon almost every aspect of life in India — on the disparities in economic growth, on the unevenness of distribution of wealth and opportunities, on the drastic changes necessary in industry and agriculture, on the right type of political leadership, on the communal, regional and sectarian forces that have to be eliminated, on violence in society, on student unrest, on the prospects before youth, and on the role of administrators. Indeed, there is hardly any issue of public importance that he has not discussed.
A common thread running through his speeches and writings is his impatience at the slow pace of change. He is candid enough to acknowledge failures and alert enough to take note of the dangers of communalism, regionalism, growing violence, dispari­ties in the standard of living of the people, and the continued exclusion of large masses from the mainstream of the socio­economic life.

Since the topics he discusses have many common points, there are inevitable repetitions of ideas; but he places emphasis on the same issues from different angles. He gives a clear picture of the problems that India faces and sets out solutions to many of the ills that beset the nation.

- PUBLISHERS.