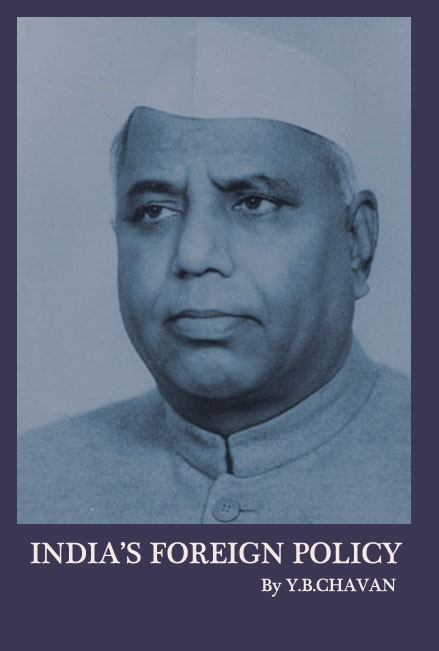 INDIA FOREIGN POLICY
Shri Yeshwantrao Balwantrao Chavan
------------------------------------------

| | |
| --- | --- |
| | Ebook साठी येथे क्लिक करा |

Preface
In October, 1976 I made a proposal that the texts of my speeches, articles, statements, and radio and television talks during my tenure as Minister of External Affairs from October 11, 1974 onwards may be put together for publication in book form for record and reference. The typescript of the material, assembled and roughly classified under broad subject-headings, turned out to be quite voluminous, approximately 175 separate pieces of nearly 100,000 words. All this material, reflecting our thinking on international affairs, could in all probability be quite useful as documentation of current history and source material for study of contemporary Indian diplomacy.
The idea to compile this material, as I see it now, was in a way both intuitive and prescient, a premonition of later events. I may however add that my personal views at that time were formless and uncertain in the prevalent political ethos in the country. I recall that in those troubled months I was filled with foreboding and given to intense heart-searching. In retrospect the attempt at compilation of recorded material on foreign affairs for the period between 1974 and 1977 appeared to be an index of my mood, foreshadowing the many developments that follow­ed in quick succession in the first three months of 1977.
My tenure of office ended on March 23, 1977. But there was no necessity for me to make any substantive statements on foreign policy after January 18, 1977, the date of the announce­ment of the general election, which caught up with me in Romania on the eve of my scheduled departure to Czecho­slovakia. I cancelled the visit and returned .home.
Recently, when I got adjusted to my present and novel ex­perience in my political career of being in the opposition party, after an uninterrupted period of nearly 14 years on the treasury benches in Indian Parliament, I again looked at the material collected nearly two years ago.